Dental Team – Jacksonville, FL
Dedicated to Providing Positive Dental Experiences
Our team is dialed-in to each other and provides incredibly efficient care. They're also dedicated to making each person's dental experience enjoyable, special, and tailored to fit their needs. Our team is grateful when patients choose to visit our dental office because of our expertise and top-tier service, and they're incredibly dedicated to making sure that every person who visits us feels welcomed and like their care is in experienced, trustworthy hands. To stay ahead of the evolving game, our team is no stranger to extended CE courses. This helps us stay sharp and ready to serve you with excellence! You can read more about each of the friendly faces that you'll see around our dental office below.
Liz, Treatment Plan Coordinator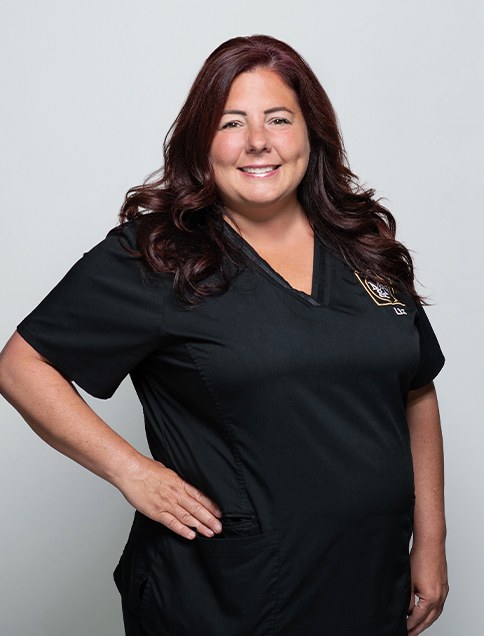 Liz is our warm and bubbly treatment plan coordinator. She was clinically trained as a dental assistant and received her assisting degree from Premier Dental Academy 20 years ago in Salt Lake City, Utah. Since then, she has earned her Expanded Duties Dental Assistant certificate and been certified in All-on-4 dental implants. Her passion is being able to use her extensive clinical knowledge and experience to break everything down in layman's terms and really help patients understand their treatment needs while also working with them on financial arrangements. Elizabeth is no doubt a people person and loves building relationships with her patients. Away from the dental office, she likes to hang out at the pool with her sons, Xavier and Jaxson, as well as their dog, Sadie.
Lisa V., Insurance Coordinator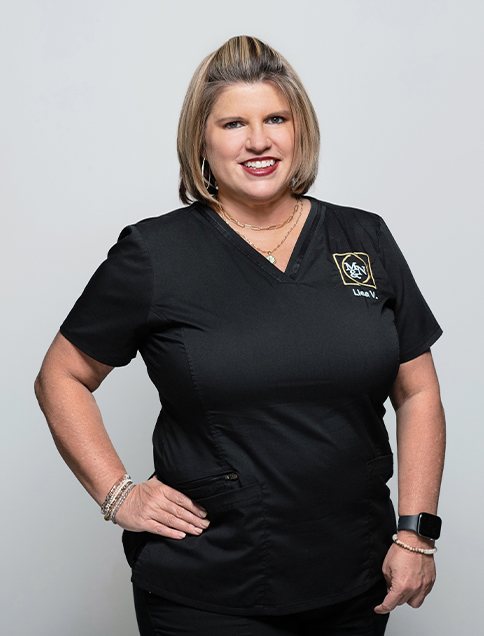 Lisa has been on our team for 23 years as our Insurance Coordinator and has enjoyed watching the dental office grow and expand. She received her dental assisting degree in 1992. Her favorite thing about her job is helping patients maximize their insurance benefits to make getting the care they need easily affordable. She also loves watching our younger patients grow and start families of their own. When she's not in the dental office, Lisa enjoys antique shopping, boating, laying by the pool, playing with her adorable dog, Ruby, and visiting her son, Kyle, wherever he might be stationed (he's a surgical technician in the US Navy).
Darline, Patient Concierge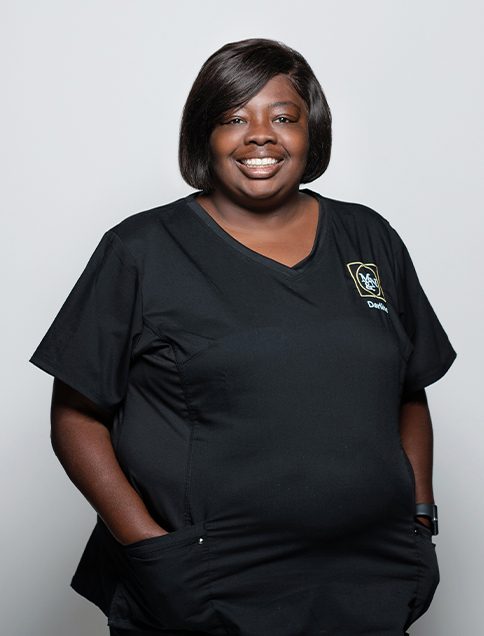 Darline has been with the Mullens family for over 20+ years. Now that the kids are grown, she has made the transition to the Mullens & Nguyen Team as our Patient Concierge.
Darline is a big part of the San Marco community and already knows a lot of our patients. Whether you have known her for years or meeting her for the first time at our front desk, Darline makes everyone feel welcomed and comfortable. From greeting our patients, to her incredible administrative support, she is an essential part of our growing dental office. When she is not in the dental office, she loves spending time with her family and friends and sitting in her back yard enjoying the beautiful Florida weather.
Kay, Dental Hygienist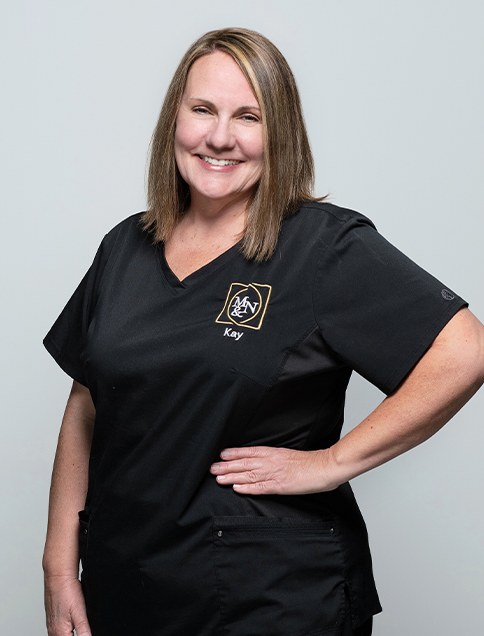 Kay has provided excellent care for our patients for over 26 years! She sees patients throughout their treatment and offers oral hygiene instructions so that they can better understand how to care for their teeth and how it affects their overall health. She has certifications in expanded duties for orthodontics and pedodontics and is licensed to administer dental injections. Her favorite part of her job is getting to know multiple generations of the same family. Outside of work, she enjoys spending time with her family and friends, attending church, going to the beach, taking pictures, and scrapbooking.
Lisa G., Dental Hygienist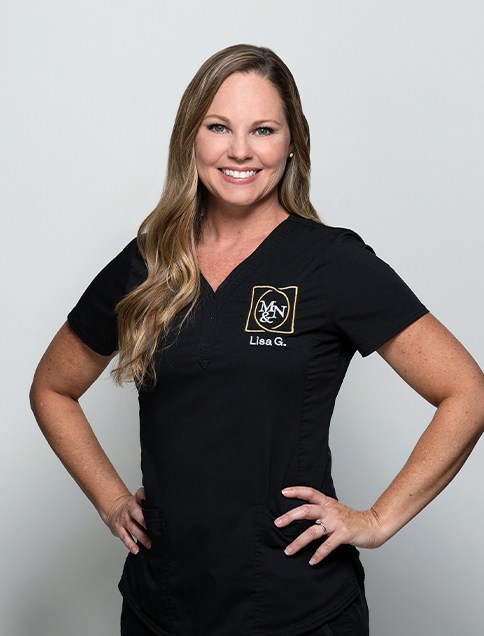 Sixteen of Lisa's 27 years in dentistry have been spent as a hygienist with our team. She provides exquisite periodontal care, preventive maintenance treatment, and education on proper dental home care. With her easy smile and infectious laughter, she makes sure that everyone in the dental office has a good time. She takes the time to get to know patients on a personal level so that they feel that she truly cares for them. At home, Lisa loves relaxing with her husband, Charlie, and their children, Jackson and Avery. Her hobbies include photography, making jewelry, and taking on crafting projects.
Kiana, Dental Hygienist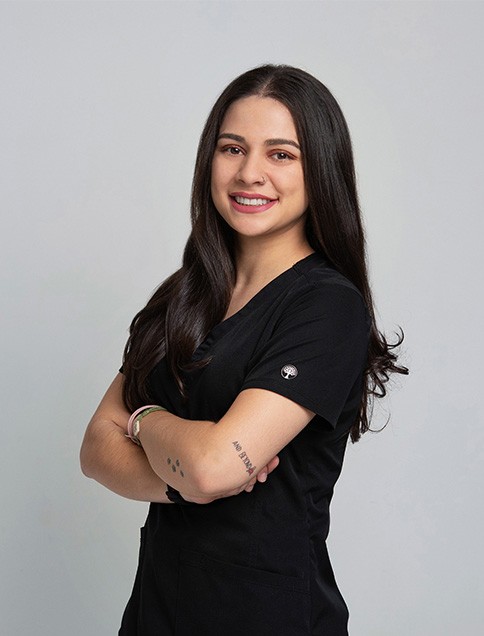 Kiana hasn't been with us long, but she's worked in the dental field for over ten years. That experience, including her work with emergency dentistry, makes her a valued team member. Plus, her education at Florida State College means she's well-versed in tooth and gum matters. As such, she can do what she loves – work with family-like colleagues and offer healthy smiles.
Away from the office, you'll find Kiana with her husband and two rescue dogs. She especially likes exploring the city with them and finding local stores to support. Otherwise, her hobbies include reading, taking photos of sunsets, and learning about penguins.
Christa, Dental Hygienist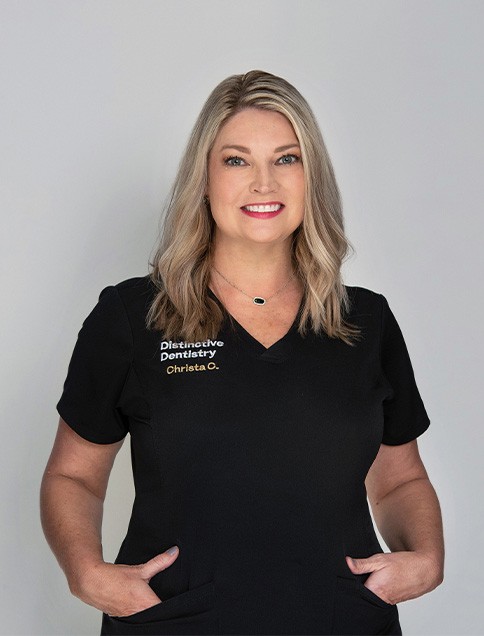 With over 25 years in dentistry, Christa knows her way around dental hygiene. Her education at Santa Fe College also helps with the hygienist role. Her passion for patient health and care, particularly, helps us at the office.
Aside from work, Christa also values her personal life. She's a "proud mama" to her daughter and son and a dog mom to her elderly cocker spaniel. As for other interests, she also likes to travel, read, and practice Pilates.
Christine ("CC"), Dental Assistant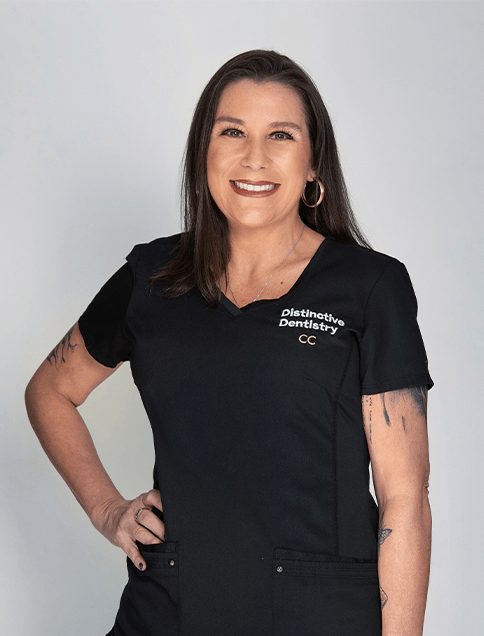 Christine is one of our top-notch dental assistants who started working with us in January 2018. She obtained her dental assisting degree in 1997 from Pensacola State College and has a whopping 23 years of experience. She is a member of a nationally recognized premier certification and credentialing agency for dental assistants, DANB, which demonstrates her commitment to the profession and passion for lifelong learning. Christine loves working with all types of patients and is particularly great with our very fearful patients, and she puts them at ease by explaining procedures step by step. With her time away from the dental office, Christine stays very active thanks to her husband and two teenage boys. She enjoys attending their soccer games and also likes to go boating or riding on her Harley Davidson on the weekends.
Heather, Dental Assistant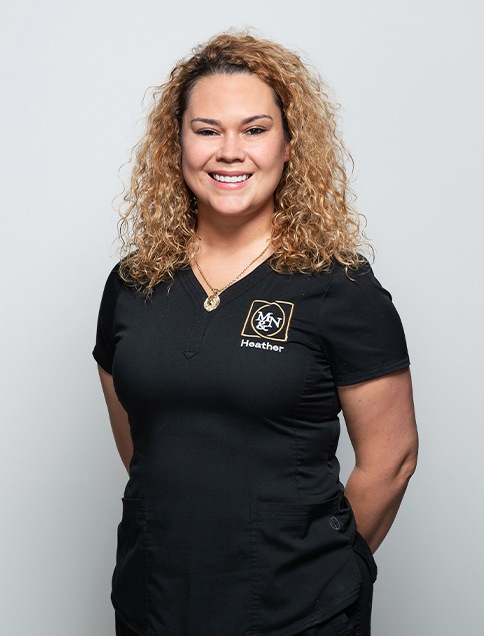 Heather has been a part of our clinical team for almost 10 years, and she assists in all aspects of patient treatment, having a particular interest and expertise in oral surgery. She is seasoned in the field of dentistry, having nearly 20 years of experience as well as her expanded functions certification. She loves making patients happy and comfortable during their dental appointments in any way possible. She moved to Jacksonville from Hilton Head Island, South Carolina with her husband Michael. They have three beautiful children, Camren, Caylub, and Cayleigh, and she loves cooking and spending time at the beach with her family.
Deidra, Dental Assistant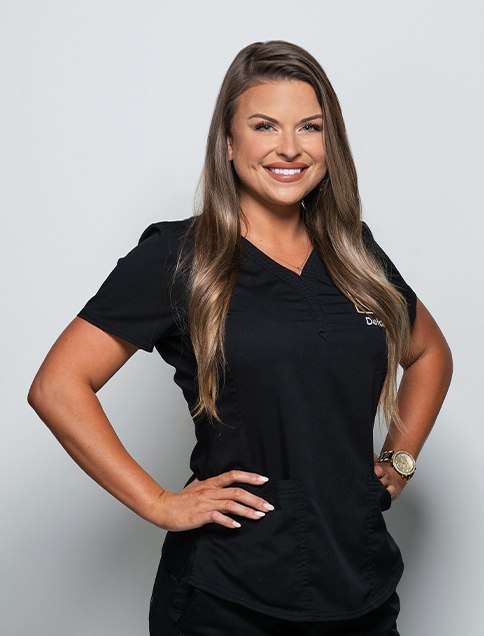 Deidra began working for our team in 2014 while attending Florida State College of Jacksonville. She became a certified dental assistant through the University of Florida. Deidra is passionate about educating her patients and boosting their self-confidence through dentistry. Her favorite part about being a part of the Mullens & Nguyen family is being surrounded by people who are passionate about health and patient care at a concierge level! Outside of the dental office, Deidra can usually be found blaring country music, attending concerts, wake surfing, horseback riding, or just relaxing and soaking up the sun at the beach with her pup, Biscuit.
Caitlyn, Dental Assistant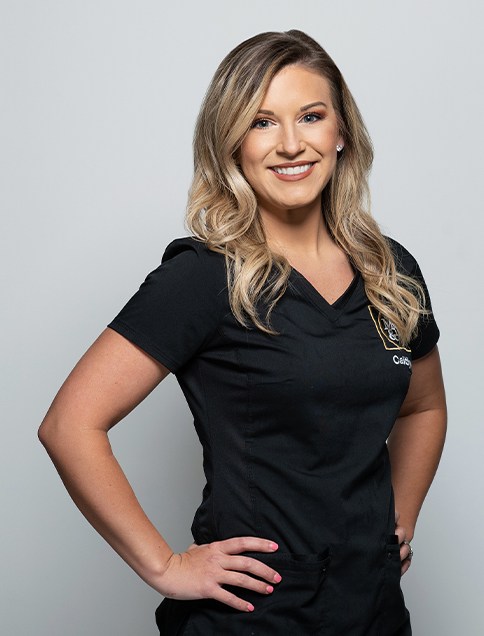 Nothing makes Caitlyn happier than easing a patient's fear and anxiety. She loves seeing someone who was obviously scared walking into our dental office end up leaving their appointment with a huge smile on their face. She has been a part of our team since 2019 and is a graduate of the Kaplan College for Dental Assisting. She is married with one daughter and says that her family enjoys the simple life in the country. You'll often find her spending time camping at the beach or inside playing with Barbies with her daughter. She is also really interested in make-up and likes learning new tips and tricks to use when getting dolled up.
Brooke, Dental Assistant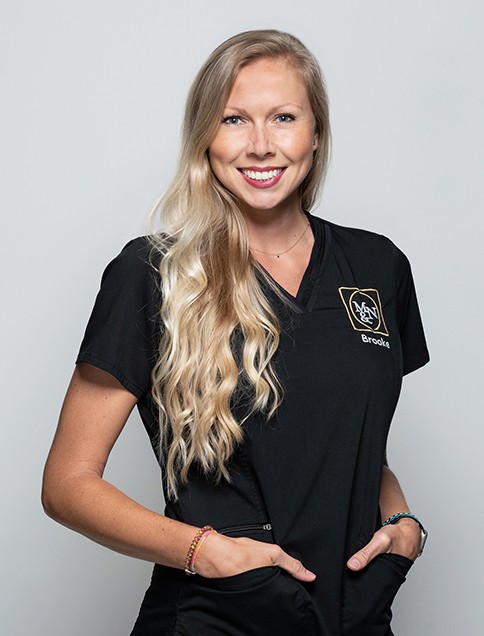 Brooked joined our team in 2019, and she says the best part of her job is getting to work alongside two incredible doctors that teach her valuable lessons every day. She graduated from Texas A&M University and completed her dental training at the University of Florida. She has certifications in both expanded functions and dental radiology. Originally from Del Rio, TX, she likes to spend her off time at the beach searching for shark teeth or travel to find her next scuba diving adventure. At home, her favorite thing to do is simply relax with her two Miniature Pinschers, Tex and Taco.
Maribelle, Dental Hygienist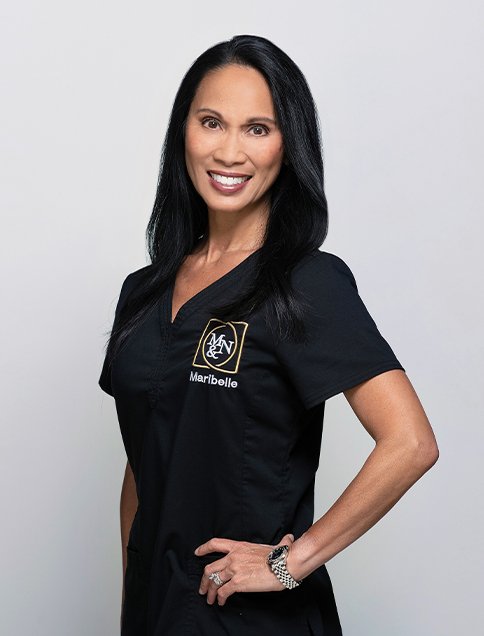 Maribelle brings an amazing 31 years of experience to our dental office, and for her, it's all about helping patients achieve their dental goals while supporting their long-term oral health. She attended Florida Community College at Jacksonville and is certified in CPR. She and her husband, Kenny, have been married since 1993, and they have two daughters, Kayla and Morgan. Spending time with her family is her favorite thing to do, and she also likes attending concerts, going to the beach, and dancing.
Paige, Clinical Operations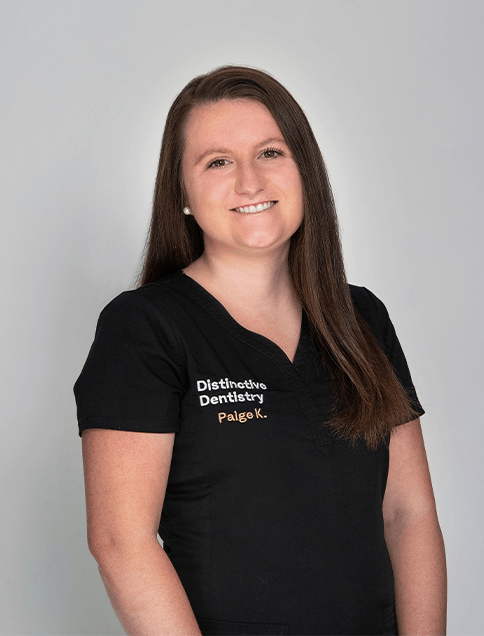 Paige likes that her job enables her to contribute to every part of our dental office on the clinical side, whether she's helping our hygienists, assisting our dentists, or sterilizing our instruments. She completed her dental training at the University of North Florida and Florida State College at Jacksonville. She plans to become a registered dental hygienist in the future. Outside of dentistry, she claims to be a Disney fanatic and has been a season pass holder for many years. When not spending time at the park, you'll most likely find her at the beach or on the boat listening to country music. She is also a proud dog mom of a Goldendoodle named Paisley.