Dental Implants – Jacksonville, FL
The Peak of
Dental Artistry
At Distinctive Dentistry by Mullens & Nguyen, we believe that all of our patients should have access to the best restorative treatments available to them, which is why we offer start-to-finish dental implant treatment at our dental office. This procedure allows us to restore the entire structure of any number of missing teeth, providing countless benefits that aren't offered by any other traditional restorative procedure. To learn whether you're a good candidate for this advanced service, call our dental office today to schedule a consultation to discuss tooth replacement with dental implants in Jacksonville, FL.
Why Choose Distinctive Dentistry by Mullens & Nguyen for Dental Implants?
Compassionate & Highly Skilled Dentists
In-House Guided Implant Surgery
Artistically Crafted Dental Restorations
What are
Dental Implants?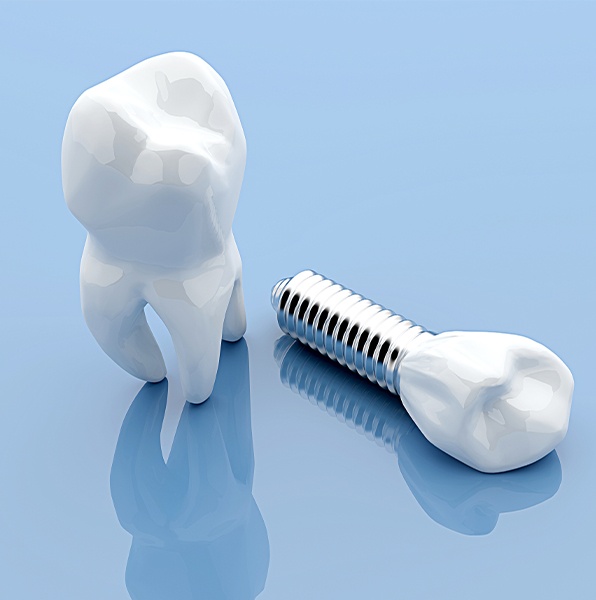 Dental implants are small, titanium posts that are surgically placed below the gumline and into the jawbone. Due to the biocompatible nature of the metal that they're made from, they naturally fuse with the jawbone through a process called osseointegration, providing restorations with a stable and secure foundation to be attached to. Because they don't just restore the biting surface of missing teeth like other prosthetics, they're able to offer several unique benefits that make the procedure so popular, such as jawbone and facial preservation.
The 4-Step Dental Implant Process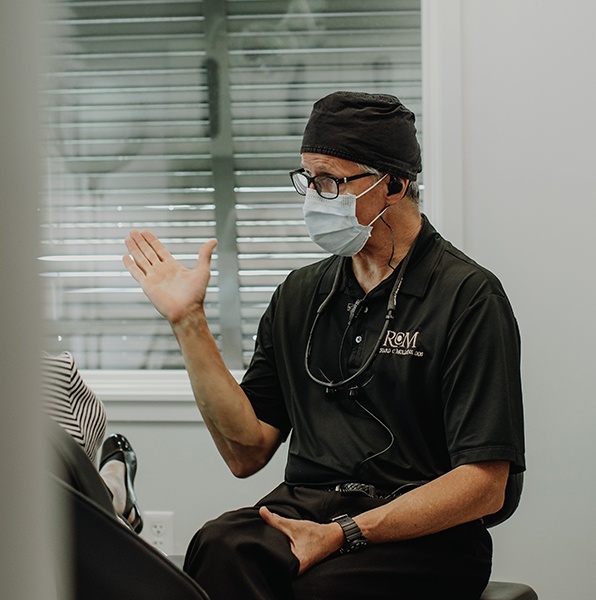 Not every dental implant process is the same. Some patients may require preparatory procedures before they can even delve into having the surgery, but we'll help you determine that when you visit our professionals. Here are the four primary steps of this process that every patient must go through to achieve a completed grin:
Initial Dental Implant Consultation. We'll examine your mouth, ask you about your goals, gather your medical history, and take X-rays to examine your jawbone structure. Based on the information we collect, we'll create a custom-tailored dental implant treatment plan for you moving forward.
Dental Implant Guided Surgery. Our dentists use advanced imaging technology to guide them to place the dental implants more efficiently and precisely into the jawbone, yielding the best possible results.
Osseointegration & Abutment Placement. After your surgery, your implants will undergo a months-long process of fusing with the jawbone, called osseointegration. Once that's complete, we'll attach a small, metal connector piece to your implant, called an abutment.
Placement of Permanent Restoration. When your permanent restoration is finally created, we'll attach it to the abutment to complete your smile.
Benefits of
Dental Implants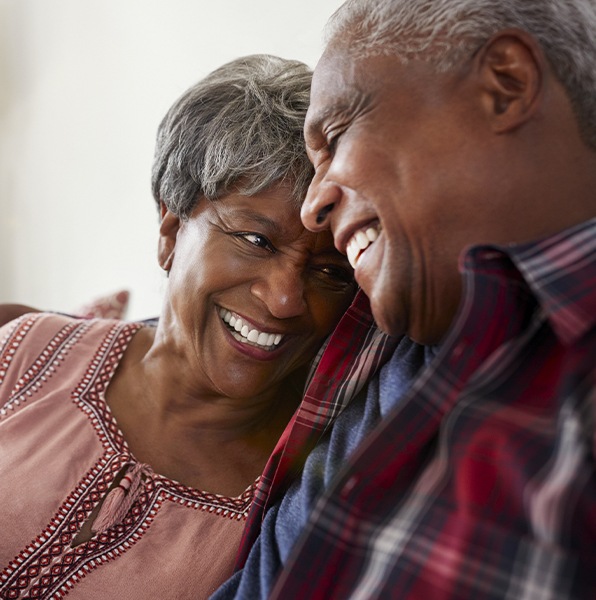 Dental implants offer a wide array of unique benefits that make them stand out among traditional restorative treatments. Here are a few advantages that you can expect to receive when you choose dental implants:
35+ year lifespan
Easy to care for
Jawbone preservation
Prevent sagging and drooping cheeks
Enhanced eating and speaking abilities
Lifelike look and feel
No slipping or shifting prosthetics
Cost-effective replacement for missing teeth
Who Can Dental Implants Help?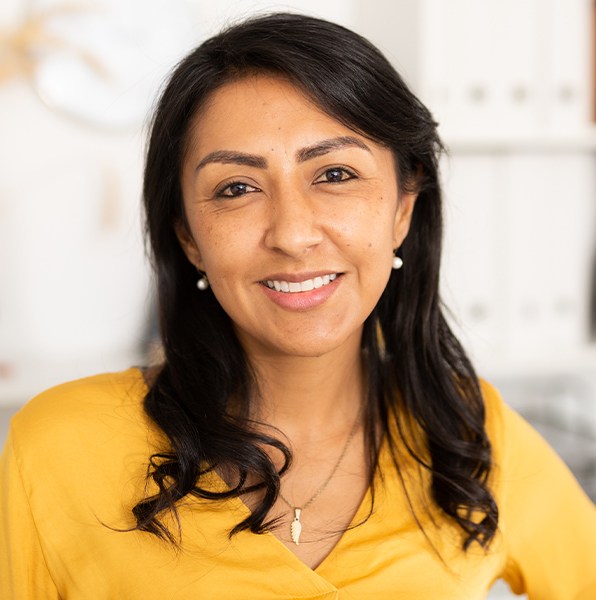 During your initial consultation, we'll outline your specific treatment plan and put it on a timeline so you know what to expect over the next several months. Depending on the number of teeth you're missing and their location, we may utilize any of the following treatment paths to restore the function and appearance of your smile.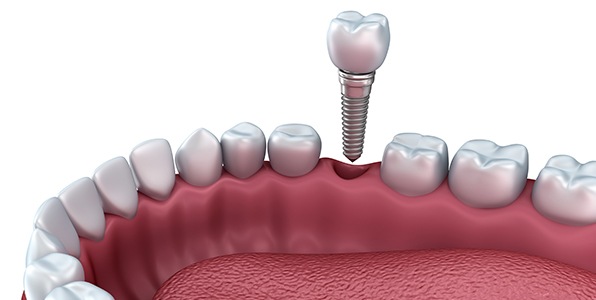 Missing Single Tooth
For a single missing tooth, we can place one dental implant below the gumline and into the jawbone. Once it has fused with the bone, we can attach an abutment that will anchor a custom-crafted dental crown in place, filling the gap in your smile.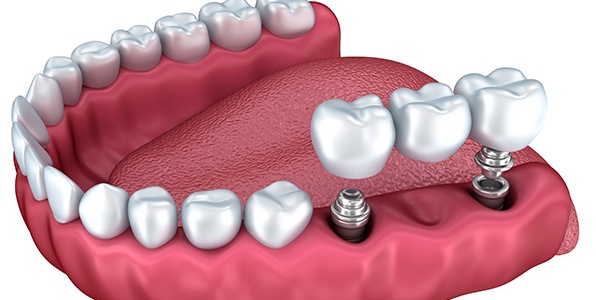 Missing Multiple Teeth
Instead of a traditional bridge that requires the alteration of your natural teeth, we can place two dental implants on either side of the gap in your smile to anchor a bridge. This way, you won't have to change your healthy teeth so they can act as anchors for your restoration.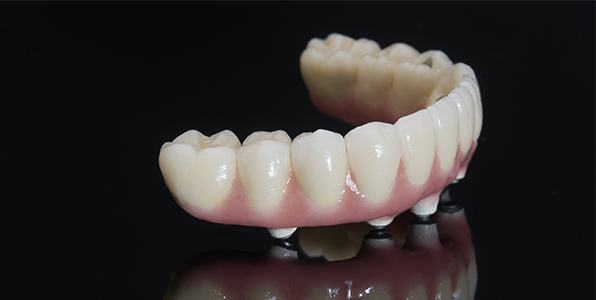 Missing All of Your Teeth
To secure a full denture to an arch, we can place anywhere from four to eight dental implants. These will secure the customized restoration in place to eliminate any slipping or shifting that could occur.
Understanding the Cost of Dental Implants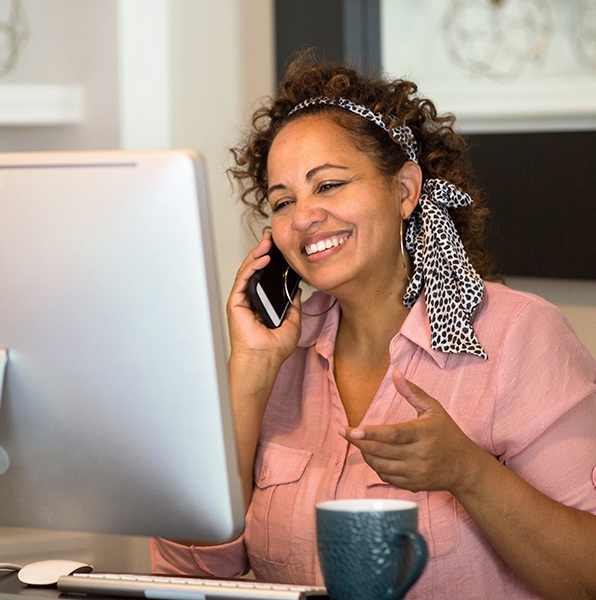 Each dental implant procedure is customized to fit our individual patient's needs, which is why there's no set cost for treatment. During your initial consultation, we'll determine whether any preparatory procedures, like a bone graft, are needed, what type of restoration you need, and how many dental implants you'll need to have placed. Once we determine these details, we'll be able to walk you through a breakdown of the cost of your treatment.